Save Wandong Action Group - SWAG
―SAVE WANDONG ACTION GROUP‖ (SWAG) FORMED
On Tuesday 24th November 2015 the Wandong—Heathcote Junction Community Group convened a meeting to update residents on the proposed Wandong interchange for the Western bypass. The audience of about 100 unanimously agreed that the bypass interchange should be relocated and elected a dedicated committee to progress the campaign. - for further information see below.
Good News for Wandong-Heathcote Junction
- SAVE WANDONG ACTION GROUP'
The Inaugural 'Save Wandong Action Group' (SWAG) Meeting was held on Monday 30 November 2015
As our residents are becoming more aware of just how gigantic the proposed Wandong interchange for the Wallan—Kilmore ByPass really is, an action group and friends has been urgently formed to re-direct the project to a less invasive location. The government is advancing areas of the plan at an alarming rate and so we must also make haste to save the area from irreversible damage to our towns and lifestyle.
Bruce Croskell (Communications Officer / Membership Coordinator (brucexkel@hotmail.com)),
Vivian Kenney (Chairperson (email: viviankenney@bigpond.com)
Linda Martin-Chew, Denis Brouet, Mike Haysom, Quentin Pettit, Vicki Leary, Christine Gordon, Clint Noble, David Leavold, Jeanette Kenney
All interested parties welcome to join SWAG and expand its possibilities and momentum.
We need your input!
Written by V. Kenney with information compiled by L. Martin-Chew
UPDATE FROM THE SAVE WANDONG ACTION GROUP (SWAG) - JUNE 2017
PEOPLE POWER WINS THROUGH
Congratulations Wandong/Heathcote Junction - The town-destroying Interchange Monster has gone!!
On the 22nd May the Minister for Roads & Road Safety, The Hon Luke Donnellan, issued a media release stating that the government has listened to the local community and "...confirms that Stage 2 of the proposed Kilmore Wallan Bypass will not proceed". It is the Stage 2 section which includes the proposed Wandong Interchange.
Minister Donnellan also stated "The Planning Minister approved the route but noted that the impacts of the redesign of the Hume Freeway interchange at Wandong were not fully addressed by the EES, and the Minister requested further work be completed".
In a subsequent communication to SWAG, and more recently to all residents of Wandong/Heathcote Junction, the Member for Northern Victoria, Ms Jaclyn Symes, reiterated the Minister's announcement and further added "The (RMCG) report identifies gaps in community engagement that I hope will inform VicRoads' approach to similar matters in the future". And "When Stage 2 is required targeted consultation will take place and I anticipate it will open the opportunity for other routes to be examined".
Hence, the interchange has gone and, when and if a route from the Hume Freeway to the Northern Highway is required, route options will need to be subjected to thorough environmental, social, economic and visual amenity impact investigations and consultations. Thank you Minister Donnellan and Ms Symes for finally listening to and acting on our community's long-standing evidence-based assertions. This brings closure and a sense of restored social justice to our community.
The Member for Euroa, Ms Steph Ryan is also to be commended for her ongoing support, and for raising our concerns in parliament. Thank you.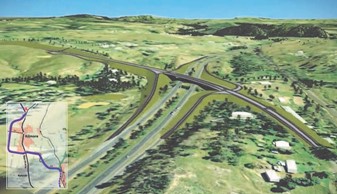 The current Mitchell Shire Council, having resolved to advocate on our community's behalf to the Minister and VicRoads, has also contributed to this positive outcome for our community. Thank you.
Finally, from the members of SWAG, most of us have spent long hours and many late nights researching, formulating, documenting and implementing volumes of correspondence, communication, submissions, rebuttals and presentations. With our mandated task accomplished, we are signing off and out:
Alicia Poperechny, Linda Martin-Chew, Denis Brouet, Quentin Pettit, Vicki Leary, Bruce Croskell, Christine Gordon, Dion Simms and Mike Haysom.