Wandong to Heathcote Rail Trail
THE WANDONG TO HEATHCOTE RAIL TRAIL
The Friends of the Bendigo-Kilmore Rail Trail (FBKRT) have requested your support. For further information contact the Convener, Garry Long on 0409 565 404 or at PO Box 578, Bendigo Vic 3552
YOUR HELP IS IMPORTANT!
The Mitchell Shire Council four year plan has listed this trail as one of its priorities. Check out the following two links -
Council Plan 2013-2017 and Advocacy Priorities
On 22 October 2012 the North Central Review News published an excellent article that includes the following information.

"Brunswick West resident Bill Cawte said 'the missing link' of the trail would bring huge social and economic benefits to the Mitchell Shire, which would see the trail run south from Heathcote to the proposed precinct structure plans of Lockerbie North and Lockerbie.

"Why stop at Kilmore, when Craigieburn, a mere 35km further on, would connect the trail directly to Melbourne's network of off-road bike paths?" Mr Cawte said.

"As this excellent project progresses steadily towards Heathcote it is now time for the Shire of Mitchell to step up and begin work on its leg of the trail."

The 'missing link' proposal extends from Friends of the Bendigo to Kilmore Rail Trail's efforts to have the path extended past Heathcote.

Current City of Greater Bendigo mayor Alec Sandner, and Crs Rod Campbell and Keith Reynard attended FBKRT's annual general meeting last month where the advisory group continued to advocate for the trail to follow the disused O'Keefe railway route.

FBKRT president Garry Long said he met with Mitchell Shire Council's director of economic development Joseph Tabacco and director of engineering and infrastructure Jeff Saker, as well as Connecting Mitchell's Jenny Sitlington, to have a feasibility study conducted.

Mr Long said the group would love to see the trail extended to Wallan and Wandong and forward planning was needed by Mitchell Shire Council."
Have a look at the Friends of the Bendigo-Kilmore Rail Trail (FBKRT) web site
FBKRT web site which also includes the railway history under the History and Resources link.
WRITE A LETTER OF SUPPORT TO THE COUNCIL FOR THE WANDONG TO HEATHCOTE RAIL TRAIL
SEND A COPY OF YOUR LETTER TO YOUR LOCAL MPs
SEND A COPY OF YOUR LETTER TO FBKRT
SEND A COPY OF YOUR LETTER TO US USING THE 'CONTACT US' LINK ON THIS WEBSITE
SEND A COPY OF YOUR LETTER TO YOUR LOCAL PAPER
Any support you can provide would be most appreciated.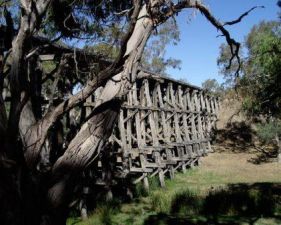 This Pyalong timber bridge lies on the proposed route for a Wandong-Heathcote Rail Trail