Wandong Public Hall
THE WANDONG PUBLIC HALL
Wandong Avenue, (PO Box 303) Wandong 3758
The Old Wandong Public Hall located in Wandong Avenue is operated by the Mitchell Shire Council and a committee of management:
PRESIDENT: Christine Gordon
VICE PRESIDENT: Allen Hall
SECRETARY: Linda Martin-Chew
TREASURER: David Moran
The official re-opening following 2 years of renovations was held on Sunday 22nd April 2012 and included a street fete and entertainment. CLICK HERE FOR DETAILS.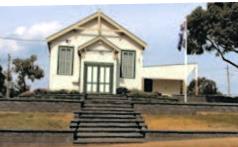 WANDONG PUBLIC HALL RATES
Not-for-profit groups and casual hiring $ 20.00 per hour
Private parties/ Groups for profit $ 30.00 per hour
Fees
Private Parties/Commercial:
Bond $500.00
Hall Hire $300.00
Public Liability insurance for a single event $30.00
Cleaning can be arranged for $40.00 per hour
For bookings information call Christine 0448 604 770
Originally built in 1902 the hall was first known as the Wandong Mechanics Institute and Free Library. A donation of timber from the Australian Seasoned Timber Company helped build the hall and it was the social hub of Wandong for many years with dances and gatherings on a regular basis. The hall celebrated it's centenary in 2002.
The contacts for our current user groups are listed below, anyone interested in joining in please contact those involved or just come along to the hall on the day, they are there for more information.
WHATS NEWS - NOVEMBER 2023
If you have an interest in the Hall and it being part of Wandong's Heritage we are looking for new Committee Members or a Community Representative to help with the care, use and it's upkeep now and into the future.
Our regular user groups are always keen to have more people come along they are listed below:
Dance classes for pre-schoolers Tuesday and Thursday mornings during term time. Contact Claire Bennett 0420 418 425
The Craft group attend every Monday, it's an informal group, bring along some lunch, and something to do if you feel like it.. There is always someone on hand to help with crafty questions in the group and this has been our longest running group.
The Lightwood Flats book club meet monthly - contact is Christine Cram Ph: 0458 238 270
Wandong Country Knitters also meet monthly, contact is Coralee Souter. Ph: 0479 163 548
Wandong Heathcote Junction Community Group hold a monthly meeting Ph: 0413 832 411
The hall is available for hire phone Christine for bookings on 0448 604770.
Christine has an answering service so please leave a message if she cannot answer the phone, she will respond promptly.