Wandong Fire Brigade

Rail Street, Wandong
Postal Address: PO Box 306, Wandong 3758
Phone: (03) 5787 1248

TRAINING – Wednesday Nights from 7.00pm
Captain: Yorin Miller
1st Lieutenant: Terry Roberts
2nd Lieutenant: Heath McSolvin
3rd Lieutenant: James Stephens
4th Lieutenant: Shane Moore
President: Sandra O'Connor
Secretary: Jen Moore
Treasurer: Michelle Kendrick
Communications Officer: Yvette Curlis
Community Safety Coordinator Kylie Shingles
Health and Safety Officer James Peake
Chairperson Sandra O'Connor
Training
Training is held on Wednesday nights starting at 7pm at the fire station. A training session is also held on the 3rd Sunday of each month. For more information contact Lt James Stephens on 0418 221 458.
Fire Fighting Equipment Sales and Service
Wandong Fire Brigade is able to sell you firefighting equipment for your business, home or vehicle. We can provide you with many types and sizes of Fire extinguishers, Fire Blankets and Hose Reels. All profits generated go directly to Wandong Fire Brigade to help us maintain our equipment.
Contact John Simpson on 0421 319 203 for sales or service.
Community Recruitment
Wandong Fire Brigade is always on the lookout for new members.
If you would like to join the Wandong Fire Brigade or would like more information, please email wandongcfa@hotmail.com or visit our Facebook Page
CFA Burn-Off Line 1800 668 511
Website: http://www.cfa.vic.gov.au/plan-prepare/burning-off/
OCTOBER 2023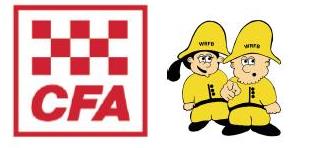 WANDONG FIRE BRIGADE
Santa is Coming to Town
It's almost that time of year again when you can book Santa to visit your house on the
back of our fire truck. If you're looking to make your Christmas party a little different, or just want Santa to visit your kids or grandkids, then booking a Santa visit with us is the perfect thing to do. Do follow our Facebook page 'Wandong Fire Brigade' for all Santa updates.
Get in quickly, as bookings fill up fast. Let us know your address, preferred times and the number of children to visit. This service is provided by Wandong Fire Brigade volunteers, and donations to the brigade are welcomed. For bookings, contact Santa's helper Heath on 0419 359 374 or wandongsanta@gmail.com
Pre-Season Preparation of Your Property
With the weather starting to warm up it is time to think about preparing your property before the fire season. Remove fire hazards from around your house and clean out the gutters. The CFA website has some great resources on preparing your property. https://www.cfa.vic.gov.au/plan-prepare/how-to-prepare-your-property. Every burnoff should be logged by calling VicFire on 1800 668 511.
Mitchell Shire Council as part of the Safer Together Project has joined with CFA and FFMV and is running a Community Clean Up Challenge with some great prizes. Submit before and after pics of the preparation at your place. Register for the challenge by 6 October to gain access to CleanUp Challenge resources including free green waste disposal. For more information contact Justine Gard of the Safer Together Project via email Justine.gard@mitchellshire.vic.gov.au or phone 5734 6250.
Only Working smoke alarms save lives. Do you know someone in the community who needs assistance?
New smoke alarms that have a 10-year lifespan ensure families can feel the highest level of security. Working smoke alarms are your best defense against preventable residential fires, especially during the night, when people lose their sense of smell. These new alarms provide the security of knowing you and your family are protected, while ensuring you're not interrupted every year with a nagging smoke alarm.
Wandong Fire Brigade are participating in a program assisting older or vulnerable members of the community to have 10-year smoke alarms installed in their homes, at no cost to them. If you need assistance with having working smoking alarms installed in your home, please call 0419 472 579 (bh) or 5735 3114 (bh) or contact us via our Facebook page.
BP Collections Melbourne Cup Day
Our volunteers will be tin rattling to raise funds for brigade equipment on the Melbourne Cup Day long weekend. Please say hi!
Training
Training for our firefighters is on Wednesday nights at the fire station. For more information contact Lt James Stephens on 0418 221 458.
Junior firefighter program
Junior firefighter sessions are run during the term on Monday nights 6.30 – 8pm. There is no cost to families. Young people between the ages of 11 and 16 years who live in Wandong, Heathcote Junction, Clonbinane and Kilmore are invited to join our Juniors program. For any queries contact Kylie on 0409 962 172. This is what one of our juniors wrote :
"One activity I really enjoyed doing at Juniors was the Search and Rescue. The engine bay was filled with smoke from the smoke machine, and we had to find a person and a dummy body. I really liked this activity because it looked really cool inside the engine bay and I enjoyed working together to find everything."